The Kensington Presentair isn't the smallest 'laser pointer' on the planet, measuring in at 60mm x 70mm x 210mm and weighing 25g. Nor is it the cheapest with that $69.99 price tag. However, most of all it isn't just a laser pointer and thinking of it in those terms is something of a mistake. Sure, the Presentair does include a red class 2 laser but that's just the start of it. The clue is in the name Presentair, as this is a fully featured tool for anyone who gives presentations in the course of their working day.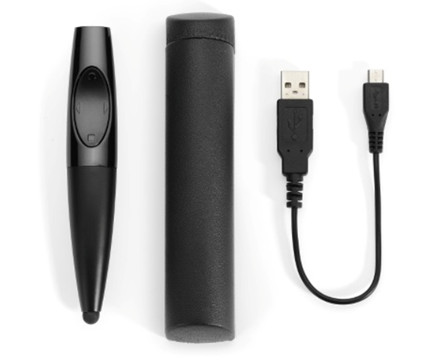 The school lecturer or corporate sales director alike will be more than satisfied with the 30 feet (10m) Bluetooth wireless range, ensuring that they can move around the classroom or boardroom without ever losing contact with the laptop. That contact being important as the Presentair has buttons intuitively situated under your thumb which control forward and back and black screen during PowerPoint or Keynote presentations. The same controls can be switched into 'media mode' and then used to control play/pause, next/previous and stop functions for audio or video media playback.
Kensington describe this as an 'easy to grip' product which 'slips easily into a shirt pocket' and that's true to an extent. I found it easy to grip, and very comfortable, while in the presentation orientation. Everything is supremely natural and comfortable when used in this way, but that's not the case when you flip it around and go for the stylus orientation. Ah yes, I forgot to mention that the Presentair also doubles up a stylus. However, it's not the greatest shape being less pen-like and more kazoo-shaped; as such it really doesn't work for me and I wouldn't want to be making too many annotations or drawing illustrations with this.
Then there's that 'slips in your pocket' statement, which it does but also slips straight out again if you bend over courtesy of having no pen/pocket clip. Instead the Presentair comes with a very sturdy hard case (weighing in at 33g and measuring 150mm x 140mm x 230mm) that really does not slip easily into a shirt pocket at all. Not that I'm berating Kensington for providing such a strong case, I am not as it's actually very welcome. However, I am berating the company for not designing the device with a pocket clip. Something of a silly oversight if you ask me.
Another oversight being the method of toggling the device on and off which involves holding down the power button for one second and waiting for the blue LED to glow and then fade. Turning it off you hold it until the LED blinks rapidly and then you release it. But don't hold it too long as the same button is also used to pair the device. Confused? I was. Sometimes a nice and simple old-fashioned on/off slider really is the best solution.
I liked the concealed Micro USB charging port, revealed by sliding the Presentair top and bottom sections apart. Plug it in using the cable provided and, once fully charged after a couple of hours, the device will then get you around nine hours total usage (depending upon how much use you make of the laser pointer as this is the most energy hungry part of the thing) and 10 days standby power.
The PowerPoint presentation market is hardly short of such devices, and Kensington has done something of 'an Apple' by positioning this one firmly towards the upper end of the price range and marketed it on the design as much as the functionality. Although I think there is still some work left to do on the design front, overall I think Kensington has got this about right. It makes for both a good corporate purchase, and an ideal gift for the lecturer in your life...