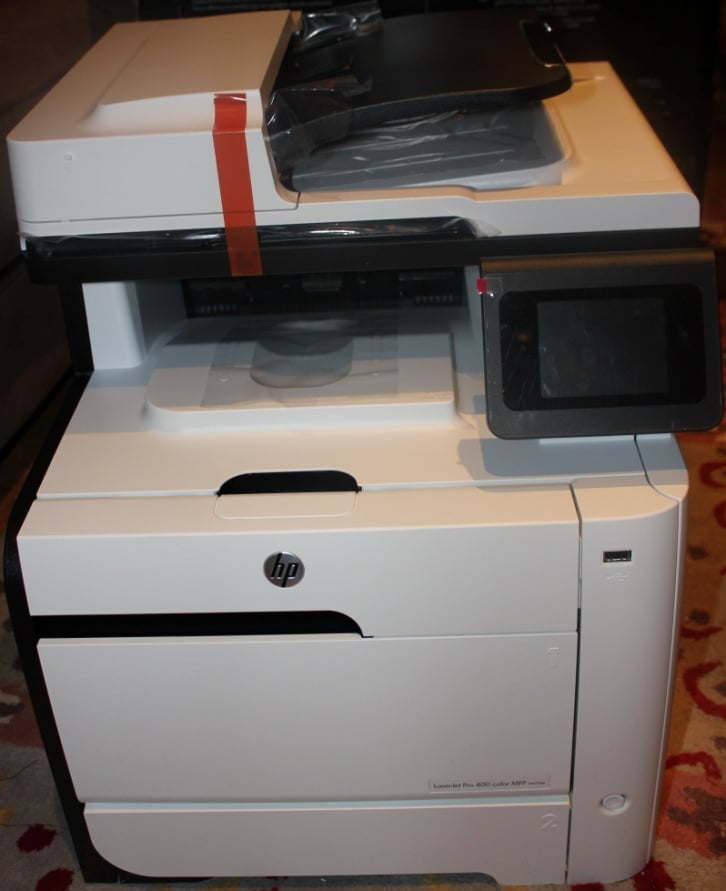 The LaserJet Pro 400 MFP M475dn is the newest entry into the all-in-one printer market from HP. It is a color LaserJet which scans up to 4.5 inches per minute (ipm) in color and 11.5 ipm in black. This device will copy, fax and print up to 21 pages per minute (ppm) in both color and black-and-white and there is also fully automatic duplex printing as you would expect.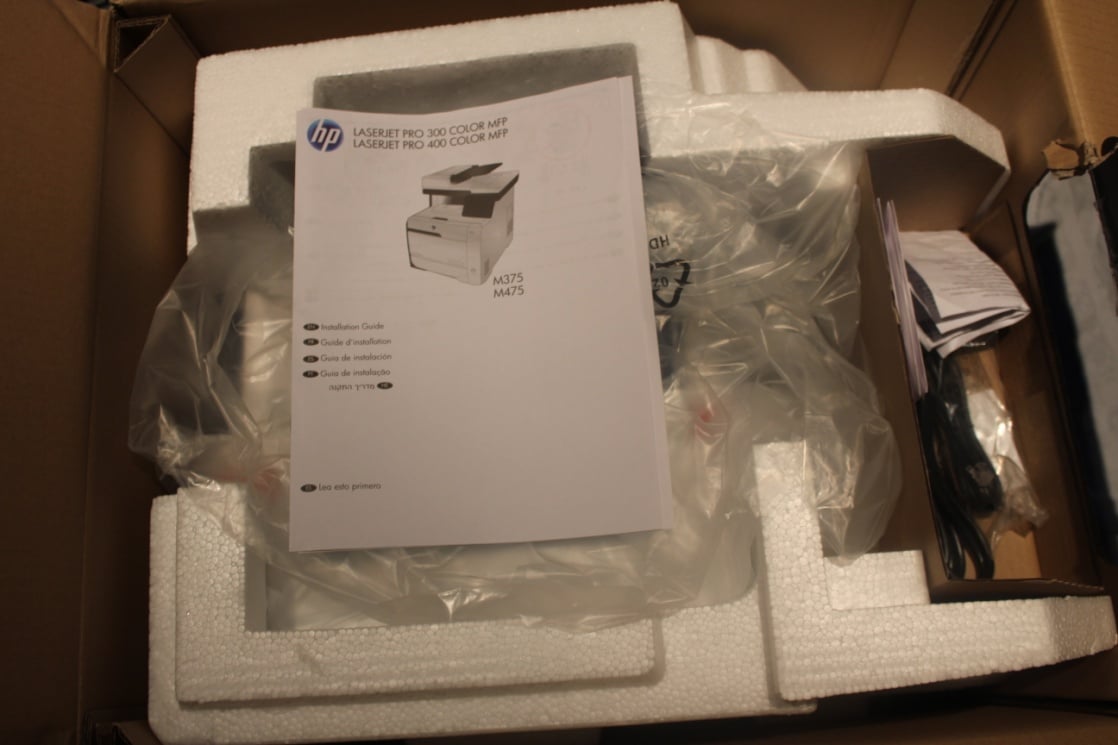 The printer arrived in a big box and weighed in at printer 65lbs. Unpacking was straightforward thanks to the directions printed on the inside flap with instructions on how to do this without straining yourself. No assembly was required; we just had to remove the dozen or so shipping tapes and we were ready to go.
The first thing we noticed was the beautiful 3.5 inch touch-screen control with an impressive glass screen replete with intuitive and intelligently arranged icons and menus. Overall then, it's a very solidly built machine with nice curved edges that doesn't suffer from unwanted flex. We were pleased to see that both the paper and toner trays glide smoothly.
Installation was as painless as the unpacking, courtesy of the HP Smart Install process. All we needed to do was put the printer on the same wired network as the computer and the installation program started automatically. Network configuration for the printer was done through the software so there was no need to enter a long pass-phrase on the printer itself. Gone are the days of relying upon an easily misplaced CD, or downloading large installation files, and figuring out the right time to plug the USB cable from the PC into the printer.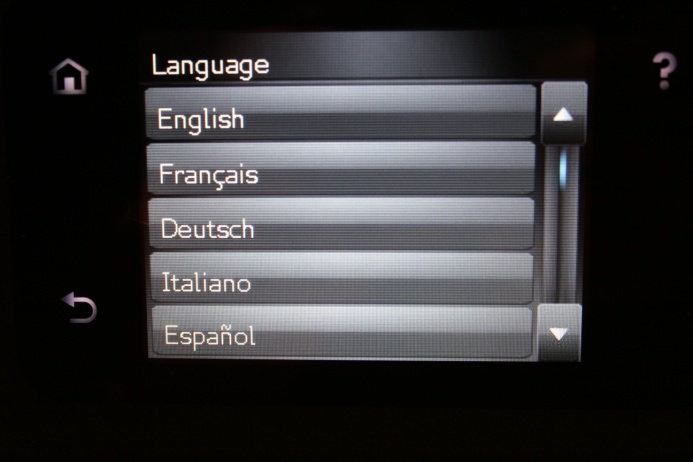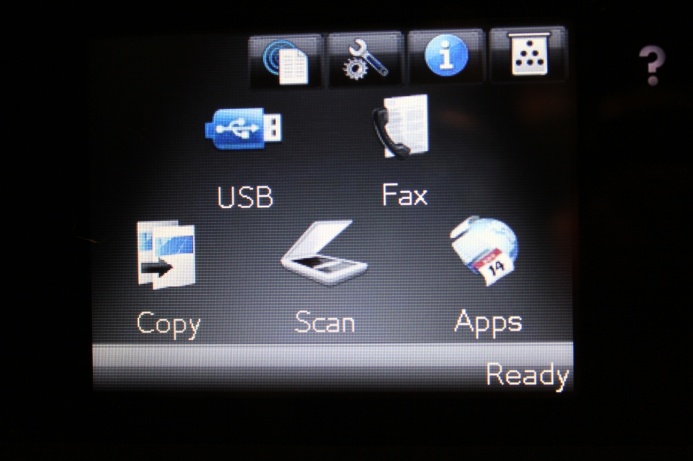 Once the software is installed it even upgrades the printer firmware automatically without user intervention. With the supplied HP WebJet admin you can configure access and limitations easily enough within an enterprise environment. It's even really easy to upgrade the memory from the installed 192MB to the maximum of 448MB.
The MFP M475 offers all the functionality one can ask for in an all-in-one printer; scanning, copying, faxing and of course printing. The inclusion of duplex scanning is a real time-saver, and the supplied software allows you to scan your documents into multiple formats. The copier portion offers controls that's usually only found in a full-size copier; enlarge/reduce, darkness control, print on one or both sides and collation. The automatic duplex function not only saves paper but also space if you are archiving documents.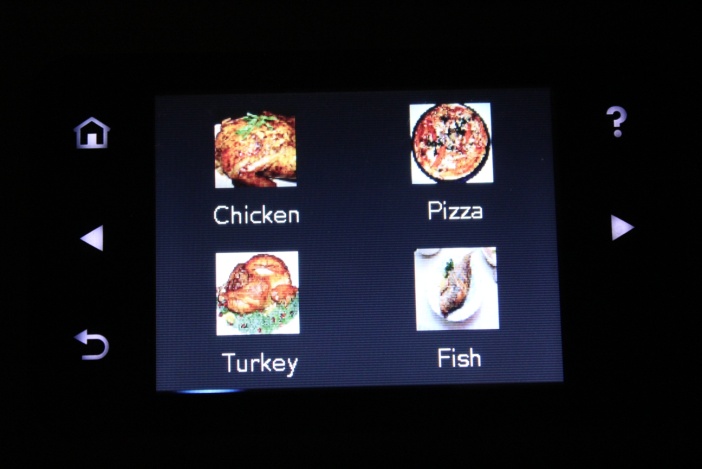 The device also offers HP ePrint and supports Apple AirPrint, an absolute must if you own an iOS product. Up front the MFP M475 has a USB port for printing of directly connected memory devices, and the color touch-screen enables easy selection of files or pictures that you want to print. What's more, it will only show you files that it is actually capable of printing. When it comes to photo printing, you can rotate the images and even configure what size and how many photos per page you want to print without resorting to using your computer.
The photos printed on HP paper with ColorLok had vivid color and sharp edges and this device offers the same cost-per-page for black text as a monochrome HP LaserJet which will save you money on toner over time. Another benefit of toner vs. ink is that the toner never dries out from lack of use, a problem that many inkjet owners will have experienced, and usually at the most inopportune of times of course.
There is also an "Apps" icon which allows you to access some sites and even recipes.
Overall then, the MFP M475 is a great printer; everything on it just works without fuss. It scans and prints quickly enough, and uses resources efficiently with an advertised 2500 pages per toner cartridge. Whether for enterprise or home office use, if you want just one machine that does it all you should definitely put it at the top of your shopping list.