Done :).
Just need to do the following now malwarehunter;
Let's get rid of Combofix now that we are finished with it.


Click START then RUN
Now type Combofix /u in the runbox and click OK. Note the space between the X and the U, it needs to be there.
When shown the disclaimer, Select "2"
The above procedure will:


Delete the following:

ComboFix and its associated files and folders.
VundoFix backups, if present
The C:\Deckard folder, if present
The C:_OtMoveIt folder, if present

Reset the clock settings.
Hide file extensions, if required.
Hide System/Hidden files, if required.
Reset System Restore.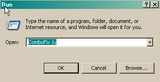 Be a part of the DaniWeb community
We're a friendly, industry-focused community of 1.19 million developers, IT pros, digital marketers, and technology enthusiasts learning and sharing knowledge.