The annual 'Black Friday' discounted shopping storm is no longer just an American event; it's hit the UK like a hurricane today. Last night police were called to four different supermarkets with heavily discounted televisions after large crowds started to gather for the midnight opening. At one Asda store (a Walmart owned UK supermarket chain) there was fighting as shoppers opted to get physical in order to secure that electrical bargain.
Then, both the Tesco supermarket and Currys PC World electrical superstore websites buckled under the pressure of would-be shoppers keen to get an online bargain. Next it was clothing retailer Topshop, and this morning the website of high street video game retailer 'Game' was down and out due to "the overwhelming response to our Black Friday offerings" apparently.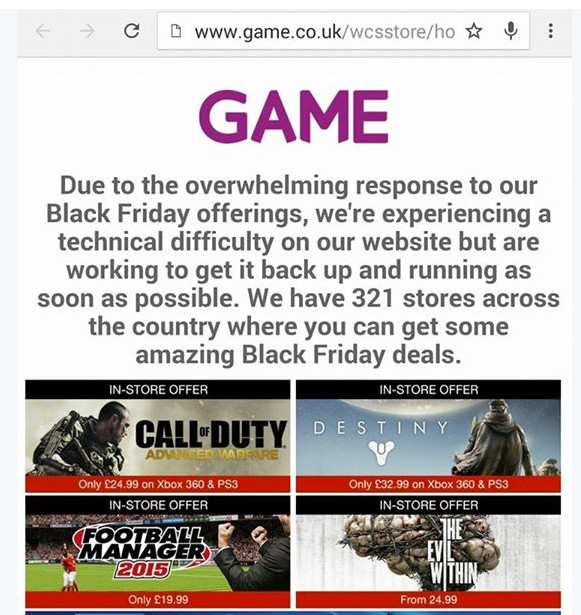 Of course, truth be told, the reason why these online sites were unavailable is a lot simpler. They underestimated the demand, and they under-budgeted for the resources required to keep their servers up. It's still only mid-morning here in the UK and I can confidently predict that more retail websites will be going down as Black Friday continues; and most likely into the Cyber Monday discount shopping continuation as well.
Archie Roboostoff, Borland Solutions Portfolio Director at Micro Focus, reckons that research points towards some 44 per cent of CIOs being well aware of the precise events that drive such peak-traffic loads, yet relatively few perform any kind of performance load testing in advance of them. Black Friday down as an event will help contribute to an estimated global loss of revenue totally some £36.7bn according to Roboostoff. "According to Micro Focus research, more than ten well-known global retailers were affected by the one–day spike in website traffic" he says, continuing "brands such as eBay.co.uk saw its website performance drop by 31% in the lead up to Cyber Monday. The site slowed from a 4.4 second load time to a 14 second load time when site traffic peaked between 17:00 & 23:45 on the 2nd December."
New developments such as cloud-based performance testing can significantly reduce initial and ongoing costs associated with the load testing market, by enabling test teams to instantly deploy existing performance test scripts to cloud-based load generators where the load is created on pre-configured systems provisioned in the cloud. Let's hope the retailers start taking notice, and not just for the Black Friday shoppers. I'm fed up to the back teeth with online sites being unavailable because perfectly obvious traffic-peaks have been ignored. I'm not in the market for a Black Friday bargain, as it happens, but I did want to buy a game from Game which has now lost the sale as I couldn't get onto the website.
It's not just retail sites that could be down today and Monday, it could be the bank balances of those doing the shopping warns security outfit Tripwire Inc. A new survey of more than 2000 consumers from the US and UK revealed more than 40 per cent believe emails from trusted brands are safe to click. Dwayne Melancon, chief technology officer at Tripwire, says "I have seen some very convincing phishing emails and bogus websites that look nearly identical to the real thing. Shoppers need to look beyond the facade of convincing branding to make sure they aren't being conned into clicking on a bogus link."