HP has kicked their line of enterprise printing into high gear for Q4, combining ease of use, versatility, and sleek design into their latest Laserjets. One such printer, their Laserjet Enterprise 500 MFP M575f is HP's answer to companies looking for something with complete versatility, that can sit ona desk, and clocks in at a sub $3000 price point. The printer combines powerful hardware and new technology to create a printer that is not only fast and efficient, but also very easy to use and extremely accessible.
The Laserjet Enterprise M575f is HP's color Laserjet, retailing at a jaw-dropping $2,699 with (almost) all the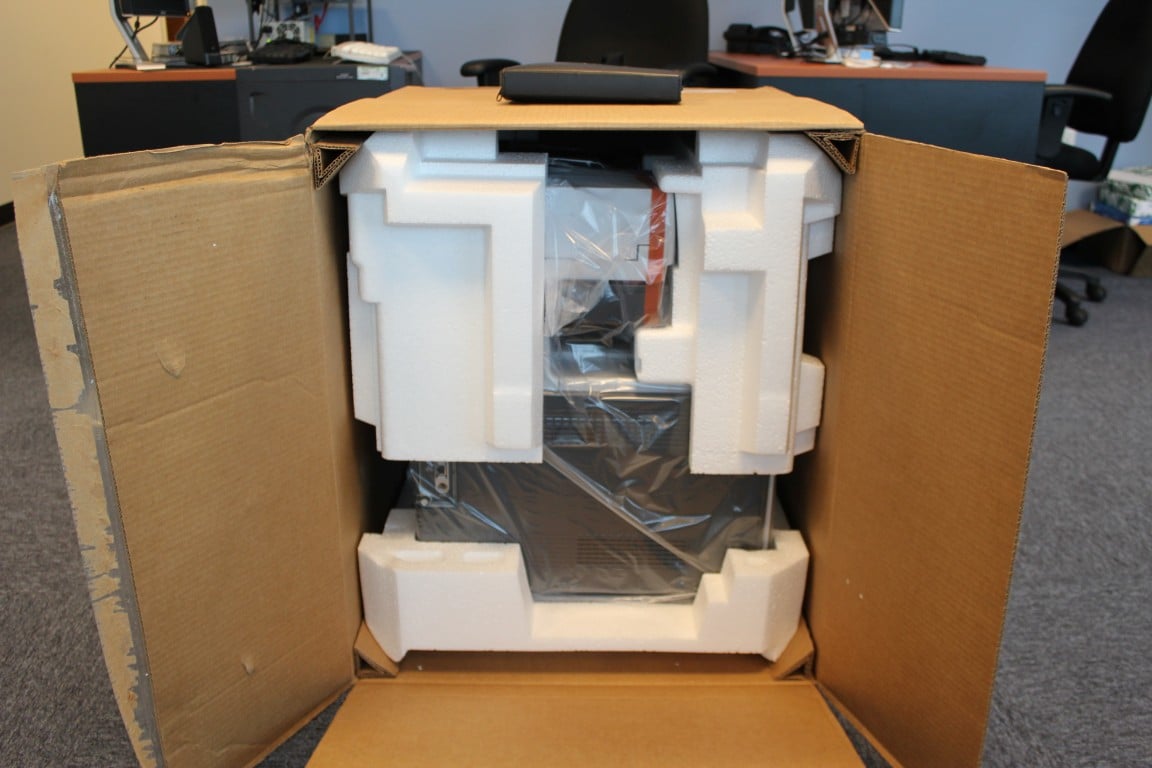 bells and whistles you'd expect to get out of a near $3,000 printer. The printer features your typical all-in-one solution with the option for duplex printing and collation as well. The printer holds paper in its primary tray (somehow tray number 2) and has a side tray that opens, allowing you to easily print envelopes or other more specialty-items without messing around your default settings. The entire printer experience is managed from an attached touchscreen with a massive 8" display. While we were expecting HP to finally show off WebOS to its enterprise customers as a powerful printing environment ever since they bought Palm in 2010, sadly this option didn't make the cut, and instead a rather generic printing environment was chosen instead. Even more surprising is an apparent lack of HP apps - which would have loved the massive screen real estate - though this is likely just an attempt to trim the fat and stick to the hardware, which HP has done very well with the Laserjet Enteprise M575f. The ePrint feature is alive and well, giving the user access to print documents and images from anywhere they have internet accesss, and is a welcome feature to the printer. The printer also features a built in stapler that you can use to easily press a few pages together while on the go, and an Foreign Interface Harness that you can plug in a WiFi or other third-party adapter. With a 250 page capacity in the primary tray, high-efficiency (and easy to change) toner system, efficiency and ease of use are equal components of the Laserjet Enterprise M575f, and a testament to its powerful hardware and excellent design.
While the printer can toss out a duplex page in about 15 seconds, and print its first page from startup in 10, bootup times are atrocious. Every time the system is turned off and on it needs a good four or five minutes to fully boot, meaning you better sit down and make some coffee while it warms up the internal OS. Despite this slow bootup, the printer can shell out a lean and mean 31 pages per minute in color or black & white, so at least it makes up for speed where it matters most.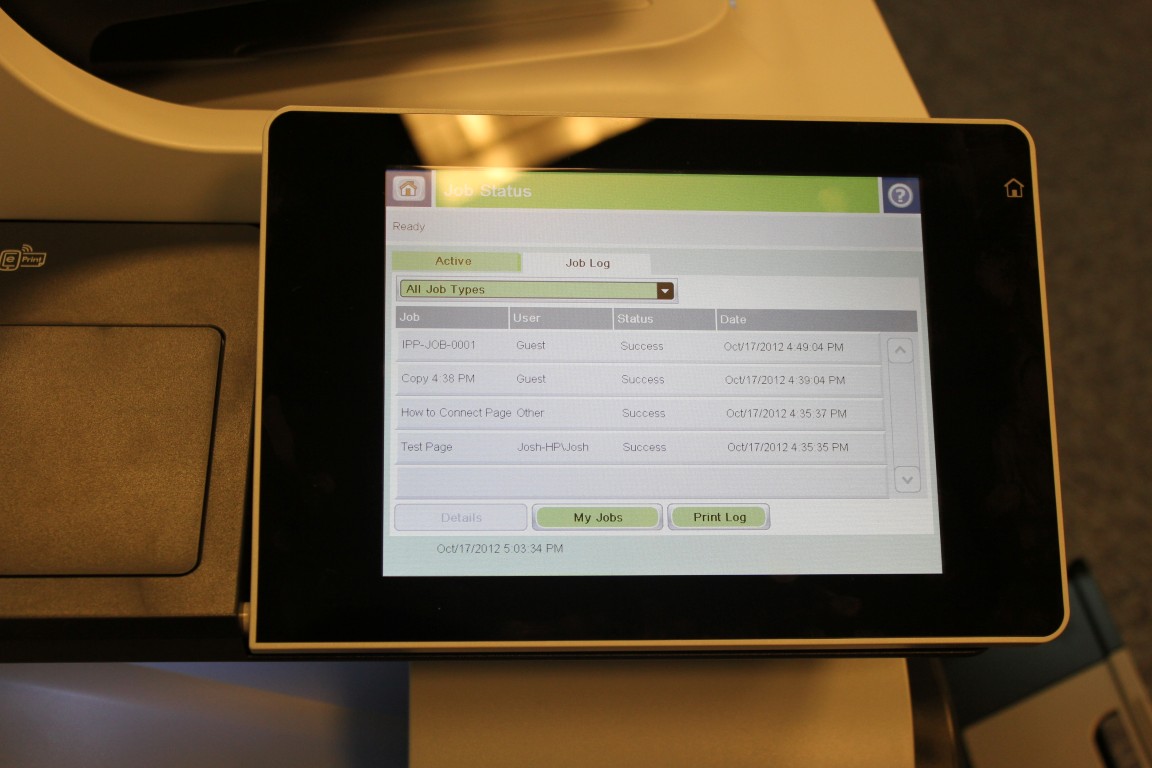 hardware is rather impressive for the Laserjet Enterprise M575f, the software lacks a lot of polish where it matters most. Even if you ignore the disappointment that the touch interface lacks something with more depth, like WebOS, you can't ignore the lack of tactile feedback, easy scrolling, and very clunky performance. The on-screen keyboard is rather simplistic, and difficult to use compared to the sort of keyboards you'd find on more user-friendly systems, like an iPad or other tablet. A hidden, complicated, finickey back-end browser-accessed "Setting" system that you need to view via a nearby computer on the network lets you configure mail, save to USB, file management, and other essential features, which is difficult to use to the average individual. As this is an enterprise unit, it's rather safe to say they expect a company that spends $3,000 on a printer to spend some money on an IT expert to configure this printer too. With great hardware comes great maintenence, that's the only caveat there.
In the end, the HP Laserjet Enterprise M575f is a fantastic enterprsie printer, but feels a little lacking of polish in the parts that need it most. Software historically has made ir or break it for many electronics, and the OS behind this printer could use some much more simple, effective software to back up the impressive hardware. At a retail price of $2,699, you'd expect not only a power printer, but a polished one too. HP has made a fantastic printer, but there are some printers out there that are cheaper, and can accomplish the task just as well. If you're a fan of the touchscreen interface, ePrint, and reliable lifetime however, the Lserjet Enterprise M575f is a great choice for your team.