Microsoft has been slowly moving away from the desktop PC software market for many years now, and with the recent launches of Windows 8 and the Surface tablets, along with the latest Windows Phone devices, the whole mobile and touch arena has taken quite a bit of the consumer-oriented focus. It really should come as no surprise, then, to see Microsoft strategically positioning itself in the device integration space: the Xbox SmartGlass app is a prime example of this.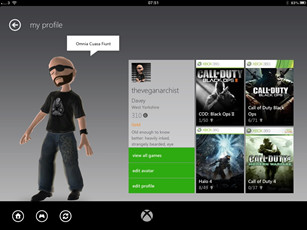 Available initially for Windows 8 devices and those powered by the Windows Phone OS, and then for Android devices, Xbox SmartGlass has now arrived on the iOS platform for both the iPhone and iPad. What Microsoft has done by taking this step is announce itself as determined to connect the dots between the various platforms and markets it plays in, quite literally in fact. SmartGlass is more than just a remote control for the Xbox 360 games console, as the name suggests it's much, much more than that. Or rather, it has the potential to be much more.
Microsoft sees SmartGlass as being an experience enhancer, one that moves the kind of rich and interactive content you expect from your home entertainment console these days onto the tablet or smartphone in your hand. Sure, you can play games on your iPad and iPhone already, but that's not really what SmartGlass is all about; it's all about extending the experience, enhancing the entertainment, controlling your console and connecting with your friends. It's playing catch-up with the smart TVs and assorted interactivity apps out there, and dropping Microsoft firmly into the interact with TV shows, movies, music, sports as well as games territory.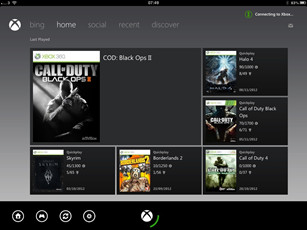 Or at least it will be when it achieves the kind of momentum in terms of what Microsoft calls 'partner support' to ensure that the games you play, the movies you watch, the music you listen to all support this enhanced functionality. At the moment the baseline support is such that chances are you will find more stuff not being enhanced than you will find that is, but the same can be said for any new technological advance in the early days.
So, what does this gaming remote control on steroids actually let you do? I've been playing around with the Xbox SmartGlass 2.0 app and love the ability to navigate my Xbox 360 console with the kind of swiping and tapping that comes naturally to any smartphone or tablet user. Microsoft gets touch, there I have said it and I mean it. I love being able to use my iPad keyboard as an Xbox 360 keyboard for text entry. I can quickly make changes to my gamer profile, edit my avatar, message my friends, check out my gaming achievements (which are not many, I'm something of an old fart with one eye truth be told). Then there's using the iPad as a giant remote control when watching a DVD, or surfing the web on the telly. Some movies and music streamed from the Xbox will provide additional, interactive and immersive details for SmartGlass users. Think of it as becoming a second screen or TV companion, serving up behind the scenes info and additional commentaries, or even real time strategy guides while gaming.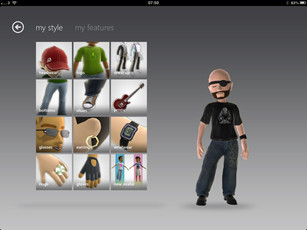 Maybe somewhat surprisingly, the functionality is pretty much the same on iOS (although there are some minor differences between iPhone and iPad device usage) as you would experience using a device running Windows Phone. Rather than re-invent the wheel, if you want to see exactly what these are then head over to the excellent feature comparison table comparing iOS, Android, Windows Phone and Windows 8 versions of Xbox SmartGlass which Microsoft has put together here.
As already mentioned, it is early days yet and it needs many more games, movies, music and TV shows to support the extended functionality that SmartGlass promises to really take off. But for a free app it is mighty impressive already, and if you own an Xbox 360 and have a smartphone or tablet device you would be totally daft not to download it and start exploring what it can do.