Research from ecommerce solutions provider SellerDeck (which used to be known as Actinic Desktop) has revealed the top ten ecommerce turn-offs that online retailers need to avoid at all costs if they are to turn clicks into sales.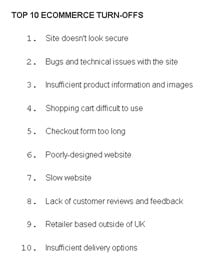 At the very top of the avoid list comes insecurity. Your website doesn't actually have to be insecure to turn the shoppers away, but just give the impression that it might not be secure. This should be engraved in stone and filed under 'well duh!' to be honest, but it seems that too many online retailers still fail to take security seriously enough to ensure that not only is the transactional security and overall data protection implementation watertight, but that investment in security is communicated through the design and site content to potential customers.
Second on the list was 'bugs and technical issues with the site' which is so patently obvious that I'm not going to bother patronising you by going into any more detail other than to say if an online shopper cannot shop online due to technical difficulty then the sales register will remain in distinctly virtual territory.
Amazingly, given the hugely competitive state of the online retail market, third biggest turn-off (which suggests that plenty of etailers are still guilty of the crime) was not providing sufficient product information, including sufficiently detialed product images to enable an informed purchase choice.
Items four, five, six and seven can almost be grouped as sub-categories of the bugs/technical issues thing: difficult to use shopping carts, checkout forms too long and complex, websites poorly designed and too slow in use. At eight was another hard to believe faux-pas, especially as the availability of customer driven feedback and product reviews has been one of the drivers of successful ecommerce. But there it is, a lack of customer reviews and feedback will have your potential customers clicking through to another online shop just as any right-minded etailer would understand.
Slightly more hard to comprehend when you consider that another driver of online retailing has been the breaking down of geographical boundaries to the shopping experience, is the etailer itself being based outside of the country of residence. I can understand that this mkight influence your purchase decision if there are two shops selling the same item at the same price and one is located in Europe and one in the US, as the possible addition of sales taxes, extra delivery charges and an increase in the expected time to get your hands on the goods all come into play. However, for 'foreign retailers' to be listed as a top 10 ecommerce turn-off is slightly worrying, and nods in the direction of a much more regional Internet than most of us would like to think exists, at least as far as the culture of commerce is concerned. The final item on the list is related in a way, and that's insufficient delivery options to satisfy the customer.
"Ecommerce sites that get the basics of navigation and providing plenty of product information are best placed to succeed, while factors such as providing the lowest prices aren't necessarily as important as some may think," said Phil Rothwell, sales and marketing director of SellerDeck. "Although retailers may feel a lot of price pressure, providing it at the cost of customer service is likely to be a false economy. It's much more important to make sure the site looks professional and feels secure, while offering customers a smooth experience from the minute they enter the site to the point at which they receive the goods. This not only means happy customers, but increases the likelihood of them returning again and again."
Indeed, when it comes to ecommerce turn-ons, the factors most likely to get you that sale, the survey of online shoppers unsurprisingly showed that easy navigation and detailed product information are most important to the customer, and so these should be at the top of your implementation list as an online retailer. These were followed by accurate stock information, previous experience of the site, cheap prices, professional design, positive customer feedback, fast servers, felxible delivery options and side-by-side product comparisons.