So this morning I get an email from Amazon which promises to inform me of some important information about my Amazon Prime membership. This is the subscription service which, in return for an annual charge of £49 here in the UK, provides free next day delivery on any item which is flagged as eligible for Prime members. That may sound like a lot, but actually if you do the math properly it's a pretty good money-saving deal for anyone who falls into the 'regular shopper' category and likes the tracked next day delivery option which usually costs an arm and a leg. So what was the important information that Amazon had to tell me?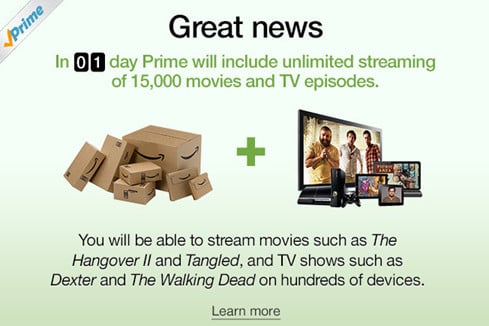 Look, I'm not completely stupid and know that generally speaking such an email is going to announce a price rise wrapped up the promise of some new additions to the service that somehow serve to cushion the blow. The question was, as ever, how much? I was expecting maybe 10% or so to take it up to £49.99 which, just maybe, I would have swallowed and continued to subscribe. I certainly wasn't expecting a 60% rise in Amazon Prime membership costs. Let me just run that past you again in case you missed it: AMAZON PRIME MEMBERSHIP COSTS TO RISE BY 60% WITH IMMEDIATE EFFECT.
Yep, Amazon want to increase my Prime membership fee from £49 to a whopping £79 per year. What possible additions to a guaranteed next day delivery scheme could they make, apart from perhaps items being delivered by <insert your sex symbol of choice here>, to warrant such an increase? Well, maybe I should let Amazon tell you that itself. Here's an extract from my informative email:
"Now we're making Amazon Prime even better. Your Amazon Prime membership will include Amazon's new Prime Instant Video streaming service beginning February 26, 2014."
Er, pardon me? Care to expand on that Amazon?
"As a valued Prime member you will be able to start streaming videos at no additional cost beginning February 26, 2014 and your Prime annual fee will not change until you renew on June 27, 2014. After that, your membership will continue for the new price of just £79 per year (passing on £41 in annual savings compared to adding a separate streaming membership)."
Wow, there we have it. I'm not being charged extra after all, in fact I'm saving money. Who would have thought it? Certainly not me, or the other folk who have been telling me that they have cancelled their Prime membership renewals as a result of this change. What is actually happening is that Amazon has, for whatever bizarre business reason Dr Mad the Amazon advisor convinced them would be a good move, merged the Prime next day delivery subscription service with the Lovefilm movie streaming subscription service. A natural pairing if ever there was one, and assuming you live in a fantasy world which has no relation to the real one where I am based.

If I had wanted to stream movies via Lovefilm I would have subscribed to the £4.99 per month service. The fact that I didn't should tell Amazon I'm not interested. Simply increasing my automatic subscription renewal amount, by 60%, and making me aware of this b y way of an email that could quite easily be mistaken as spam, is simply not good enough. I have cancelled my Amazon Prime subscription renewal, and emailed Amazon to make sure it knows why. If you are a Prime subscriber, I recommend you check your account details and do likewise if you are not happy about paying so much extra for something you didn't ask for, don't want and will never use.