An incredible 69% of IT Administrators are so stressed at work that they have seriously considered changing career as a result, according to a new survey from GFI Software. The 'IT Admin Stress Survey' also revealed that 34% of IT Administrators will work overtime equivalent to an additional 12 weeks each year, and that's without any additional pay for their troubles.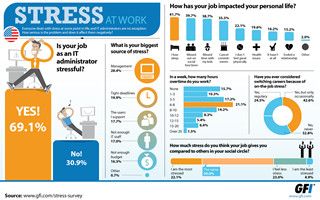 Asking 201 UK-based IT Administrators working at businesses of between 10 and 500 employees, the survey found that 66% of those questioned considered their jobs just as stressful, or more stressful, when compared to others in their immediate social circle. The amount of stress would seem to vary according to the size of the company concerned, with 56% claiming to be stressed where between 10 and 49 staff are employed but 84% where that figure is between 50 and 99.
Perhaps unsurprisingly, the main causes of stress for the IT Admin were considered to be management issues (36%), user issues (21%) and having to meet tight deadlines (15%). What was more surprising was the sheer scale of overtime being put in by IT Admins, with many routinely working beyond the 48 hour working week as laid down in law by the EU Working Time Directive and 34% admitting that they worked for 10 hours or more in overtime during the average week. These long working patterns mean that 42% had missed social functions, 36% missed spending time with their children, 29% suffered from health-related issues such as high blood pressure and 20% experienced strain which had ended a relationship with a friend or partner.
Phil Bousfield, general manager of GFI Software's Infrastructure Business Unit says that "SMBs need to take these findings as a wake-up call, and ensure that IT staff are supported, productive and armed with the tools they need to be successful. Doing so will deliver business value and help IT Admins have a better work-life balance."