Since last fall, Google has either closed down or combined more than 30 different products. If you thought that was the end of the axe wielding, think again: another bunch of Google technologies are to bite the dust.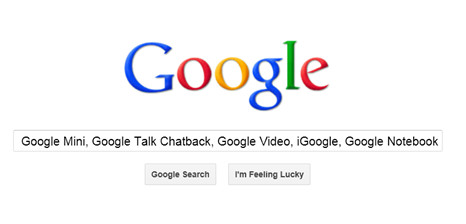 According to the General Manager of Global Enterprise Search at Google, Matt Eichner, the closures are part of a streamlining process that will enable Google to "focus on creating beautiful technology that will improve people's lives" by ensuring the company remains focussed so as to prevent it from ending up "doing too much and not having the impact we strive for".
So, what's being killed off by Google now? Here's the full list:
Google Mini
First introduced in 2005, Google described this as offering "the simplicity and power of Google's enterprise search technology at a great price" via an integrated hardware and software plug-and-play solution. Eichner admits that the Google Mini has been an important part of the Enterprise Search product line, but has confirmed that it will be discontinued as from July 31st due to the same functionality being better provided by the Google Search Appliance, Google Site Search and Google Commerce Search.
Google Talk Chatback
A simple tool that enabled you to embed a 'chat badge' into your site so that visitors could chat with you via a Google Talk widget, this was both simple and effective. However, Eichner insists it is outdated and must go. So the service is being switched off. Google is encouraging websites to use the Meebo social chat bar instead. Meebo, of course, being a company that Google acquired last month for a rumored $100 million.
Google Video
This one should come as absolutely no surprise to anyone, especially when you consider that the Google Video service stopped accepting uploads way back in May 2009 after Google bought YouTube a couple of years earlier in a $1.65 billion deal. Google Video users are asked to migrate or delete their content before August 20th, after which any remaining videos will be transferred to YouTube as 'private videos' viewable only via the video manager.
iGoogle
Not to be confused with the Google Glass product, iGoogle has nothing to do with a head-mounted Google viewer that projects Augmented Reality data in front of your eye. If only it were that interesting, then iGoogle might have survived the axe. But no, launched in 2005 it is just another personalized web homepage portal of the kind that are two-a-penny these days. If you do happen to be one of those folk who make use of it, and I personally don't know of anyone who does, you will have "16 months to adjust or export" your data before the service is wound down for good on November 1st, 2013.
These products follow the demise of other Google products you may, and in some cases almost certainly will not, have heard of such as:
Aardvark - a social search experiment to connect people by posing and answering questions.
Desktop - a Google search for the data held on your local PC.
Fast Flip - the much hyped Google news reading service that mimicked the feel of 'flicking through a newspaper' by providing a visual version of Google News.
Image Labeler - a game, as far as I can tell, that enabled you to 'label' images on the web. What the ...?
Google Notebook - a web content clipper and aggregator.
Sidewiki - social collaboration tool that worked by enabling web page user annotation that could then be shared with and edited by other users.
Google Health - access to your personal health and wellness information via a web portal.
Google Powermeter - an energy use monitoring tool.
The question is, will you miss any of the products that Google plans to close and do you miss any of the ones that have already bitten the dust? More to the point, are or were you a user of any of these? Let us know what you think of the Google closure decisions, and maybe suggest a few more products that Eichner could sharpen his axe in readiness for?