For a professional writer of any description, there are three things that matter when it comes to the keyboard that they are using: key spacing, key travel and key feedback. The Minisuit 3-in-1 Folio manages, as far as any such small keyboard is ever going to achieve, to get the key spacing and feedback right. The scrabble tile keys are far enough part, in that there is sufficient gap between them and above/below them to prevent too much mis-keying. This is the bane of most travel keyboards, the keys are badly spaced and you end up making so many typos that you give up. Not so with the 3-in-1 Folio, my typo count was low enough not to be problematical (and I say that as someone with compromised eyesight - so although my typing speed is relatively slow on a small keyboard it isn't compromised too badly overall). Key travel is decent enough, and there's sufficient feedback to know you've hit the key. Thankfully, neither keyboard I tested were of the rubber membrane variety which provide no depth of travel and no feedback and are consequently of no use whatsoever.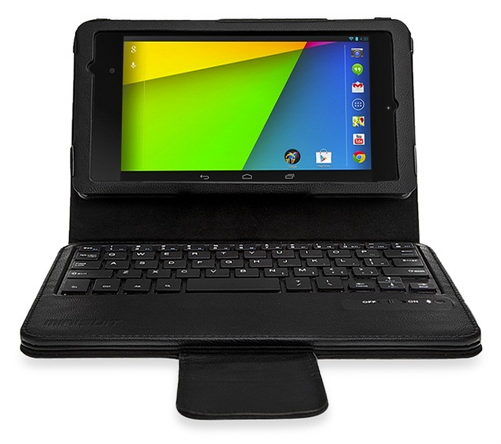 The Minisuit 3-in-1 Folio is not without some negatives though, notably the tiny spacebar which is only about the length of three keys including spacing and, importantly, only works reliably well if you hit in centrally rather than towards the edges. The Minisuit aluminium spacebar is twice as large and seems to allow more of the kind of 'hit me anywhere' input I would expect. The US layout of both keyboards is a little bit of a pain for me, as a UK-based user, but not uncommon and relatively easy to work around truth be told.
The case itself is made of a PU (fake) leather so will appeal to the vegan users out there, and provides a good level of padded protection for the Nexus 7 2013. Speaker and camera cutouts enable full tablet usage while in the case, and in-case charging is also possible. Case closure is secured by a simple flap and loop, rather than a magnetic closure, but this is typical of folio-style cases and I rather like it. I also rather like the simple 'slide it in and secure your tablet with a velcro flap' system for keeping the Nexus firmly in place. I experienced no slippage at all while using the tablet with this case, and was never worried that my Nexus was going to fall out and get damaged. I also quite like the simple fold-out kickstand for propping up the tablet in use, although I would have preferred something that gave me more flexibility in screen angles as you can bet that the default isn't going to suit every plane or train or lap situation you find yourself in.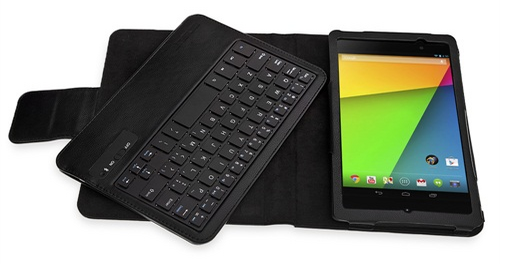 The fact that the keyboard itself is removable, it's held on with strong magnets, mitigates the stand angle inflexibility to a degree but you still need a fair amount of space if you are taking the keyboard off to use it. Talking of magnets, this is a smart cover so your Nexus will auto-wake when you open in and go to sleep when you close it, which is always nice. What else? Well, the keyboard only takes a couple of hours to charge (using the supplied USB cable) fully from flat and provides a claimed 120 hours of continuous working time. I wasn't able to verify this, but during my week of intensive usage it never need recharging which is a very good sign. The manufacturers also claim a standby charge of 130 days which is equally impressive. Part of the battery life reasoning is that the keyboard itself goes to sleep when not being used for 30 seconds or so, which does mean it can sometimes be a little slow to respond to the first key-click when waking it up, but not so that it gets annoying. The Bluetooth pairing was straightforward, and I experienced not a single dropped connection during my testing period.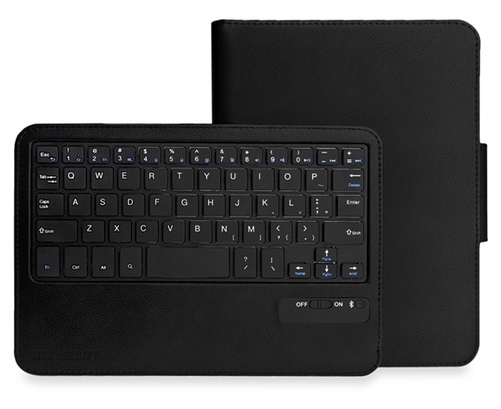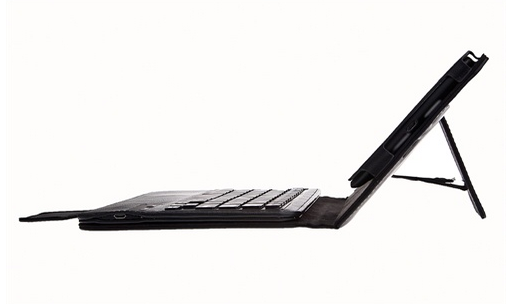 So which of the two cases I tested won out in the end? As it turned out, there was no real competition between the two when it came to real world typing. Indeed, I ended up writing this conclusion with the Minisuit 3-in-1 Folio Case and I came very close to giving up on the Minisuit Ultra-Thin Aluminium Bluetooth Keyboard Cover half way through writing that review, such was the difficulty in not making any errors courtesy of the very tight key spacing. The 3-in-1 is, quite simply in my opinion and based upon my real world experience, the most fit for purpose. Sure, there's no doubting that the aluminium cover looks the part and is sexy as hell (well, as sexy looking as a tablet cover can be) but you don't buy a keyboard case just on grounds of appearance. Nor do you buy it just for writing an occasional email or posting your Facebook replies; you buy it as something that can be used for longer periods of serious text input. Don't get me wrong, both solutions are an improvement on the stock on-screen Android keyboard for any prolonged writing session but the far superior key spacing, general layout and key travel/feedback of the Minisuit 3-in-1 Folio wins out every time.