According to the boffins at Kaspersky Lab, users of Android devices running Gingerbread (Android 2.3.6) and Ice Cream Sandwich (Android 4.0.4) are targeted the most by cybercriminals. Gingerbread accounted for 28% of all the attempts to install malware that were successfully blocked by Kaspersky, while Ice Cream Sandwich accounted for 22%.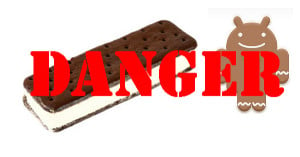 Over half of the malware detected on Android devices by Kaspersky were, unsurprisingly, SMS Trojans designed to relieve the victim of money by sending SMS text messages to premium rate numbers without the users consent or knowledge. The most popular method of doing this, it would seem, is for malware to disguise itself as the OperaMini browser client such as all the programs that comprise the OpFake malware family which, with a 38.3% share, proved to be the most widespread in the malware market.
A fifth of all malicious programs detected on Android devices were what Kaspersky call 'versatile' Trojans, the vast majority belonging to the Plangton family which collect service data and transmit it to a command server to await further instructions. Those instructions include the ability to stealthily change bookmarks and home pages in order to facilitate phishing and other assorted money lifting scams.
Another security vendor, F-Secure, found that Android malware was on the rise in Q3: up to 51,447 unique samples from 5033 in Q2 and 3063 in Q1. This is also hardly surprising, considering that Android is now the most popular mobile OS by quite some margin. More than 70% of all the smartphones shipped in Q3 were running a version of the Android OS. What might come as a surprise for many is that Gingerbread is the most targeted Android OS version when it comes to malware, considering it was released way back in September 2011 and has long since seen more secure versions of the OS released.
Yuri Namestnikov, a senior malware analyst at Kaspersky Lab, has the answer why: "Due to the segmentation of the Android device market it still remains one of the most popular versions, which, in turn, attracts increased interest from cybercriminals. The popularity of the most recent version of the Android OS – Ice Cream Sandwich – among virus writers can be explained by the fact that the devices running the latest versions of the OS are more suitable for online activities. Unfortunately, users actively surfing the web often end up on malicious sites."
Sadly, according to security vendor Trend Micro, only 20% of Android users have any kind of security app installed in order to mitigate the growing security threat.