So here it is, or will be by the end of the month, the world's first smartphone to use a 64-bit chip. Immediately I would suggest that you can forget about most of what was announced yesterday: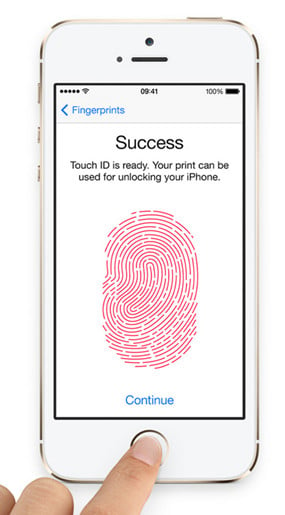 Forget the new colours that everyone is drooling over (gold? really? - grey? really?) which really are just window dressing. Forget the uprated camera which is now an 8-megapixel beast with dual LED multicoloured 'True Tone' flash (which apparently will help to grab images which look more natural) and slow-motion video capability.
Forget the fingerprint scanner built into the new circular home button, if the outrage from privacy campaigners and technology nay-sayers will let you. Even before anyone has tried the Touch ID system the Internet seems to be filling up with people saying it won't work. However, the sub-epidermal scanner is there with a 500 pixel-per-inch resolution and can be used (once set up) to unlock your iPhone 5s by simply touching the home button and scanning your (encrypted) fingerprint. Touch ID will also enable iTunes purchases under iOS 7.
You can even forget iOS 7, the all new, all dancing operating system which has the honour of being the first bit of Apple software to be created by Apple hardware designer Jonathan Ive. Better known for his work on such things at the iMac, iPod, iPhone and iPad, Ive has given iOS something of an Android-Windows-alike makeover with brighter colours, flatter layers and a new set of touch gestures.
What you simply cannot forget, however, is that 64-bit smartphone status. An iPhone that, and we have to take Apple's word for it right now, runs twice as fast as the previous model. Indeed, with a new chip that has more than a billion transistors (double the previous chip transistor count) Apple also points out it is some 40 times faster than the original iPhone.
Outside, the iPhone 5s looks very similar to the iPhone 5, colour schemes and circular home button aside, with pretty much the same dimensions (123.8 x 58.6 x 7.6mm) and weight (112g). It's what inside that is really exciting though, and in my own geeky way I really do mean that: the all new A7 chip has a desktop class 64-bit architecture to boost the performance of the handset. Considering many people use smartphones as laptop replacements nowadays, seriously even if you don't and I don't they do, a beefed up CPU and graphics performance is important. Which is why Apple has also stuck a M7 motion co-processor in there to capture and process the accelerometer and gyroscope data for example, taking that work away from the CPU. It is expected that developers will exploit the M7 within fitness apps for example. If games, rather than health-apps, are your thing, then don't panic. The iPhone 5s also runs OpenGP ES 3 so truly graphically intense gaming should be no problem at all.
UK availability and pricing (your region may vary, so check with the Apple Store) is that pre-orders are being taken now and it will go on sale from 20th September. The cost, assuming you are not going through your mobile network provider for a much better deal as and when they are rolled out, will be £549 for the iPhone 5s 16GB. £629 for 32GB and a whopping huge £709 for the flagship 64GB model.